Film A Wedding With A Smartphone Camera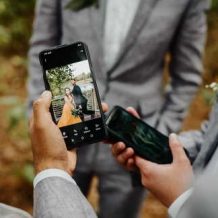 Although you will undoubtedly be extremely busy on your wedding day, creating a wedding video is something you will be happy to have done for a lifetime.
Showing your children and grandchildren footage from your wedding day will be something you will always be looking forward to enjoying with them and you can film a wedding with smartphone camera.
Here are tips from videos and photos taken by your guests that can help you create an incredible DIY Wedding Video.
Delegate
Using a wedding app to record your wedding video is a great way to make your wedding video unique and cost effective.
Footage is captured and uploaded via an app from the smartphones of the guests, and this footage is professionally edited to create a unique wedding video.
It leaves you free to focus on the things that matter — like your wedding and not recruit an expensive video team.

Let us be strategic.
Odds are, there'll be blurred video, people in the middle of the wedding arguing about the vows and cameras running out of battery.
The only way to ensure that you still end up with a beautiful wedding picture is to prepare for these types of problems before the wedding feast.
Troops mobilize.
The fact that almost everyone gets involved is one of the best parts of having your guests record your wedding video on their smartphones.
Send out emails beforehand to alleviate last-minute pressures, reminding guests that this activity is not frowned upon but encouraged! Invite them to check out your wedding site for a preview of what you are trying to make.
A week before the wedding date, invite guests to download your wedding app. Doing all this in advance will make sure you are free to enjoy your day without having to direct your very unique and exciting camera crew.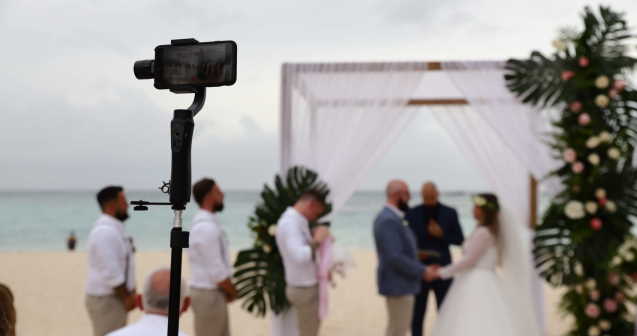 Instruction.
Another great idea is to shoot wedding video from iPhone. Place the instructions on tables and tuck each wedding program into one.
Less tech-savvy guests may need some help and this wedding video card ensures they can contribute to your wedding video.
They also act as a friendly way to inspire guests to capture every detail by whiping out their smartphones. Remember: Extra video is better than too little!
Choose a few "Key Players."
While the beauty is that you involve all of your guests in creating a wedding video, it is a good idea to pick out a few people who are more focused on the recording aspect than the crowd.
This can allow you to have an overall more complete and beautiful video, as this footage can also be used to compose not-as-focused yet lovingly captured segments.